Subscribe: Apple Podcasts | Email | RSS
Lynne is a California-based equine sport, ranch, portrait, pets and livestock photographer for both personal and commercial clients.
Lynne is pictured third from the left in the above image.
SHOW NOTES
Website: http://www.photo.lynnesite.com
Facebook Page: https://www.facebook.com/pages/Lynne-Glazer-Imagery/42216687604
I've known Lynne for many years. She is a talented and very technically particular photographer. What I mean is that she never fudges getting the images right in the camera and on post processing to create the best possible image for her clients.
Because of this she has done all sorts of both personal and commercial photography, but for today's interview we spend a lot of time discussing her endurance ride photography including covering the internationally known Tevis endurance ride which is a point to point 100 mile trail event which occurs every year in California.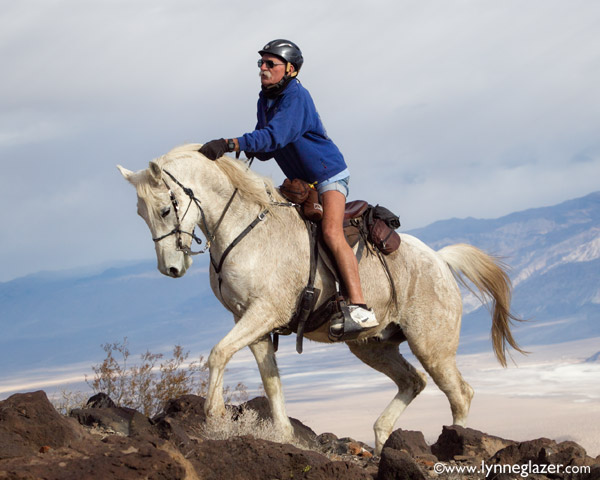 Lynne has been horse crazy as long as she can remember, but she got her first horse at 31 years old. He was an older horse, but she was able to enjoy him for quite a few years.
In 2003 started shooting endurance rides. She also had a desktop technology support business for media companies as a freelancer, so she knew how to run a business before getting into the business of photography. She also had a lot of knowledge about using technology proficiently for her photography business although later in the interview she explains that she hates to blog which she knows would increase her visibility as a photography business.
Now she works with an aerospace engineering company in areas of technology that you and I would not have a clue about. She can work remotely and on the schedule she chooses which is usually at night. It's just what she likes to do. That also leaves her time during the day for photography and enjoying her horse.
How does Lynne describe her business today?
She does events, farm and ranch photography along with her endurance ride photography and a smattering of other things. She says she does family photography with "critters". She used to do a lot of editorial photography, but does a lot less now. She still shoots for Arabian Horse World. She also did stock photography profitably for many years, but doesn't do much with that any more.
How long did it take her to move into professional photography?
She was able to bring herself to professional status almost instantly because of her understanding of running a business and her technology background. Knowing Lynne, she is one that I would never have to say, "read your camera manual", since she does technical writing and also probably has it completely memorized.
She has done a lot of things over the years like horse shows, kids rodeos, also 2nd camera for Cristy Cumbersworth for her contracted events. Second shooting can be nice because you just hand over the images and the lead photographer takes it from there.
Lynne did a lot of work for Cavalia, the horse stage show performances for 10 years. This was a very difficult challenge due to low light. We discussed some of the challenges she faced. They would fly her to their show locations for shoots they needed.
Back to endurance riding and endurance ride photography
She is currently bringing along a 6-year-old horse for her own endurance riding. She is bowing out of endurance ride photography somewhat so she can ride endurance. She wants good images of herself riding endurance. She wants to encourage other photographers to come up and photograph these events and learn to do it well so she can buy images as keepsakes for rides where she is a participant.
The challenge is trying to capture images that will both look great and at the same time identify the ride that they are participating in. This is what makes the images eminently buyable. Making the images interesting and memorable can be challenging in California high desert, so finding the right place with the right light is important. It's not just taking pictures of everyone.
We discuss some how to photograph trail events like this. Finding a place where the 25 mile and the 50 mile riders will both pass by is important, then moving to another point later in the event in order to get an additional opportunity to shoot all the riders.
How does the business of endurance ride photography work out for her?
The rides she photographs out in California are usually 100+ riders. The average orders for prints is $45.00 which is 3 4×6 prints at $15.00 each. With an 8×10 or larger she includes a digital file for Facebook sharing. Rather than run off and have the images made quickly, she post processes, crops, color corrects the images for very good keepsake image quality.
Even though it seems that you can make more selling on site at the event, she likes being able to shoot longer and not having to run off to cull and quickly print out images for sale. People know they will have high quality prints from her business model.
She uses Facebook endurance groups and pages to promote the availability of event albums to purchase from.
Western States Trail Foundation (WSTF) is the sponsoring organization for the TEVIS endurance ride and she provides a lot of photography for them from this event.
We again have a discussion of the TEVIS endurance ride. Vet checks protect the horses throughout the ride. At the end if the horse is not fit to continue, then the horse is pulled and does not complete. This protects horses from being overextended. It is about knowing and training your horse not just pushing performance.
She travels around the USA shooting various equine clients, not just endurance.
We have a discussion of using Facebook. Lynne uses her cell phone to create slice of life images and people seem to enjoy this. She has a much stronger following of her personal profile page vs. her business page.
We also encourage your to SUBSCRIBE on iTunes so you never miss an episode. This is also where you can leave a RATING or COMMENT about the episode or the podcast. More comments and ratings helps others find our podcast on iTunes. If you enjoyed the podcast consider leaving a rating and review: Subscribe on iTunes Click HERE