Subscribe: Apple Podcasts | Email | RSS
HELLO, I'M ANNA. A FINE ART EQUINE AND PORTRAIT PHOTOGRAPHER BASED ON THE EASTERN SHORE OF MARYLAND.
How do you gain instant recognition and memorability? After reading about being the purple cow in a marketing book, Anna decided on the name Purple Horse Design. One of the many little points we discuss about Anna's quick start-up of her equine photography business in Maryland. Lots of energy and enthusiasm and planning and practice have brought her along amazingly fast. Listen to her enthusiasm and ideas and learn from the new kid on the block here on the Equine Photographers Podcast.
I had seen some discussion online about Anna's Instagram account with over 60,000 followers. People asked, were these all her own images? How old is she? Then looking at her facebook page, she looks to be a teen ager from her profile picture, but instead I found out that she is in her 30s and has a young daughter and up until a recent illness, she has pursued her equine photography business with an amazing amount of energy and creativity. She only started in 2013.
You can hear the joy she gets from photographing horses and their owners and you can listen today about how she plans and practices each thing before rolling it out to the public. But, even the best planning intentions can not prevent word of mouth advertising from putting the cart before the horse such that she has been playing catchup trying to get her paperwork and other things in order for her business as demand for her services flourished. I hope that you will enjoy this interview with Anna Smolens of Purple Horse Design.
Instagram Account:  purplehorsedesigns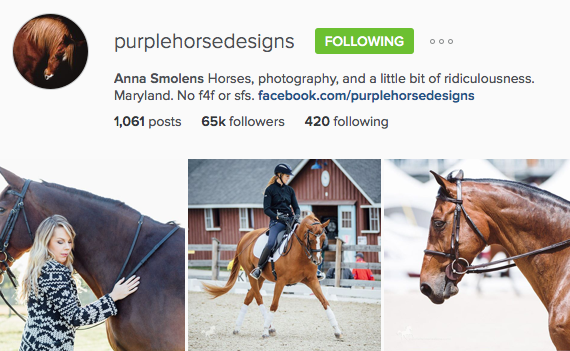 SHOW NOTES
Introduction
The horse came first. She started loving horses when she was only 2 or 3 years old. Started lessons at the age of 6. Anna still has the horse she got when she was only 13 years old and still rides him. He is frequently a model for her test shoots or just practice shooting as well.
She managed a horse farm and was a trainer for a time.
A move to the Eastern Shore of Maryland took her away from the horse business into retail for a while.
She has always loved photography too. She had an SLR in high school. Her equipment was ruined when she got run over by an Andalusian stallion and as a poor student she just left photography alone for about 8-9 years. She started a website design business for some extra cash, but it quickly brought her back into photography. She put her web design business aside to start her equine photography business.
Her love of photography is welded to her love of horses and it is what she LOVE, LOVE, LOVES.
She wanted to do things in order, but she has been playing catch-up when she did some practice shoots to build her portfolio and word of mouth spread the news that she was talented and boom, she had a business.
She does some local events and shows. It gains you exposure. She does a local breeding farm and their events as well. She shoots everybody and has a sign-up sheet to get emails. She gets all the emails from the show managers and then she sends out a link to everyone and presents "DEALS" to get the attention of the participants. She has had great response promoting packages or deals.
Private portrait sessions are what she absolutely LOVES and this part of her business is the majority. Mini Sessions at $200 per with 4 participants required, full custom packages starting at $795.00 and go up to $1695.00.
"PLEASE DO NOT STEAL" is right on the images online using Shoot Proof service. Having a "©" across your image means nothing these days, but having that "Please do not steal" on the images makes it clear that if the image is not on my site, it is stolen.
Her Instagram story is next. She has over 60,000 followers. She is creative how she captions the photographs. It was very slow going at the beginning. She decided to HAVE FUN WITH IT. She hash tags with relevant information, but she also says things that are funny and fun. She has 1064 posts and 64,000 followers, but it does not generate a lot of additional business for her.
People LOVE studio portraits of horses. She loves making them. She has a big background and studio lights that she sets up in the indoor arena. She practiced at a local Hanoverian breeding farm's stallions. Every time they post one of the images from her sessions, the response is amazing.
Anna has had to slow down for a while because of an illness. She is hoping that she will be over with this physical burden by this summer so that she can put her energies back into doing more STUDIO images of horses in her area.
She is regrouping now, changing her priorities, but still wants this to be her career going forward. She has signed up for her first equine photography workshop for this summer. Much of her learning has been through Creative Live and YouTube videos.
We also encourage your to SUBSCRIBE on iTunes so you never miss an episode. This is also where you can leave a RATING or COMMENT about the episode or the podcast. More comments and ratings helps others find our podcast on iTunes. If you enjoyed the podcast consider leaving a rating and review: Subscribe on iTunes Click HERE
Also, please use the SHARE buttons at the bottom of the page to share The Equine Photographers Podcast with other equine photographers that you may know.
Thanks from your host Peter DeMott.