Subscribe: Apple Podcasts | Email | RSS
In a changing market with changes in photography and changes in the economy their have been publications that have ceased to exist and others have cut back on photography budgets. Stock photography has also changed over the years. Throughout all this change, Shawn Hamilton has been able to run a successful editorial, commercial and stock photography business focused exclusively on equine photography.
My wife an I have been to the Rolex Three Day Event at the Kentucky Horse Park in Lexington Kentucky for the cross-country jumping portion of the event many times over the past many years. One year I had the pleasure of introducing myself to Shawn as she photographed at the water jumps. She had a very large lens which I think was a 300mm prime lens. I'm not sure where this picture  (below) was taken, but this is pretty much how I remember her on that day 4 or 5 years ago. For me it is just a 2 hour drive from Dayton, Ohio, however Shawn comes from Canada to shoot the event each year rain or shine.
But, as the interview progresses, you'll hear from Shawn how she morphs her business to meet the needs of the day and now may also create some offerings that give her a chance to "give back".
Website: http://clixphoto.com
Facebook Page: https://www.facebook.com/CLiXphotocom
Email: clixphoto7@gmail.com
SHOW NOTES:
As with every episode we start out talking about the origins of interest in both photography and especially horses.
She got her first 35mm camera from a rich ante when she was about 10 years old. She started riding lessons when her mom traded fabric for riding lessons.
She started her business in the mid 80s. She picked up The Photographers Market and entered all the magazines she had an interest in into a data base. She was working with a data base management company at the time. After a pregnancy leave of several months when she came back to work she realized that she wanted to go full-time with photography, so she quite her job and dove in.
It took about a year of shooting horse shows and three-day events before she would say that she was actually making money as a business. She started out as a show photographer.
In order to make it as an editorial and commercial equine photographer in Canada, you must have clients in the USA.
With the down turn in the economy she went back to school to learn more about writing and she has refocused on travel photography and writing, but still focused on equine vacation opportunities.
National Geographic Traveller Magazine UK version
Her recent accolade was her photography in National Geographic Traveller Magazine UK version. Shawn had taken a 7 day trip crossing the Andes Mountains from Chile to Argentina. A National Geographic writer had taken the same trip, but the photographer she had did not work out for whatever reason and they were able to use Shawn's photography instead. It's been in the works for some time and was just published recently. She is still looking for a copy of the magazine.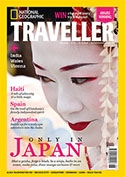 30 years photographing the Rolex Three Day Event
She has only missed two over those thirty years. Once because she was pregnant and another because she was living overseas. It used to be as an assignment photographer for several publications, but now she does the photography there for stock. She still shoots for several clients, but not like she used to. There are so many photographers at the event these days so the competition and the availability of good images is much greater. In any case Canada is still gray from winter and coming down to the Rolex where it is already spring, inspires her and gets her stock photography
Fine Art Equine Photography
Fine art is something that she has been working on for a year or so. We discussed pricing a little bit.
How to Photograph Your Horse
She was invited to do a presentation at an event. She presented about how to photography your horse. Afterwards, she had people coming up to her booth with lots of questions and asking if she would do a workshop. She scheduled a teaching workshop about how to photograph three day events. That is happening in mid June 2016. She is ready to give back and feels that this will be a great opportunity to do so.
A Book About Horse Back Riding Vacations
If she writes a book, the name will be "From the Saddle" because she does a lot of her travel photography from the saddle of the horse. We discuss how to have cameras while riding a horse. She has Lowe Pro bags and belt attachments for the cameras and lenses.
The HOW-to of Editorial and stock photography
Find magazines that resonate with you as a photographer. Send emails to the photo editors or call them on the phone to get an idea of what new types of work they are looking for. Go to the media center of the events.
Don't be afraid of the phone. Don't be afraid to talk at the events with publications and show them some of what you have.
She works with "want lists" and sends out emails with links to her images. She discusses where her income comes from today. It comes from stock, editorial, fine art, travel photography, and now perhaps workshops.
The below photo is from her website and the list goes on and on.
We also encourage your to SUBSCRIBE on iTunes so you never miss an episode. This is also where you can leave a RATING or COMMENT about the episode or the podcast. More comments and ratings helps others find our podcast on iTunes. If you enjoyed the podcast consider leaving a rating and review: Subscribe on iTunes Click HERE
Also, please use the SHARE buttons at the bottom of the page to share The Equine Photographers Podcast with other equine photographers that you may know.